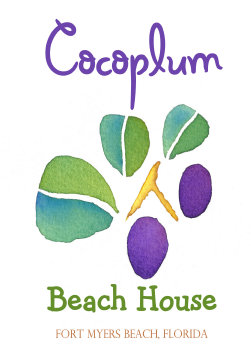 FOR RESERVATIONS, CALL
1 888 273-3934
Copyright © 2011-15 Cocoplum Beach House. All rights reserved.
Just a few steps from Cocoplum Beach house, you'll find a quiet stretch of Ft. Myers Beach. We're located mid-island, away from the crowds. While many of our guests never leave our beach, we've listed a few nearby beaches, in case you want to explore:
Fort Myers Beaches
Lynn Hall Memorial Park
This is the main public beach on Fort Myers Beach, and located beside Times Square. Here you'll find a playground area for the kids, fishing pier, picnic huts, benches, information kiosk, shops and restaurants.
Bowditch Point Park
To the North of Lynn Hall Memorial Park you'll find Bowditch Point Park, an unspoiled, natural beach area with native vegetation. The beach wraps around the Bay and Gulf of Mexico.
Beach Access Points along Estero Blvd.
There are numerous beach access points all along Estero Blvd. These allow access to the full 7 miles of white sugar sand beach to everyone. The north end of the island by Times Square tends to be the busiest, while the far north, middle of the island and south end beach areas are generally quiet.
Loverís Key State Park
The most remote beaches can be found here. On Loverís Key State Park, you may find yourself alone on a secluded beach. Here you can bike ride through trails, rent a canoe, stand up paddleboard or kayak, or watch dolphins and manatees play.
Sanibel Beaches There is a $6 causeway toll to reach any of the following beaches.
Causeway Beaches
These are great for swimming, fishing, windsurfing and picnicking. Pull up along the waterís edge and enjoy the beach and Gulf of Mexico.
Lighthouse Beach and Fishing Pier
Enjoy the historic, working lighthouse, boardwalk nature trail and native wetlands.
Tarpon Bay Beach
Easy parking for recreation vehicles. Enjoy the miles of beach and shelling.
Bowmanís Beach
There are no hotels here, just peaceful, pristine beach.