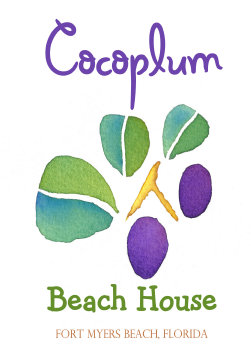 FOR RESERVATIONS, CALL
1 888 273-3934
Copyright © 2011-15 Cocoplum Beach House. All rights reserved.
Did you know Ft. Myers Beach is considered the World's Safest Beach?
Fort Myers Beach, Florida is known as the world's safest beach due to its shallow waters and lack of dangerous undertow.
Featuring seven miles of pristine, sugar white sand beaches, Fort Myers Beach is the perfect place to take your family on your next beach vacation.

Additionally, there is a beach to fit your needs, no matter what you're looking for:

On the North end of Fort Myers Beach, you'll find Times Square with many restaurants, bars, shopping, and live entertainment.



Mid-island on Ft. Myers Beach, the area is mostly residential homes, which means you'll find more serene and quiet beaches, with only the peaceful sound of waves washing up on the sand. There are many wonderful
vacation rental homes
in this area.
On the South end of Estero Island (another name for Ft. Myers Beach), you'll find more residences, condos, and some shopping, although the atmosphere is definitely more subdued than the North End scene.
What does this mean for you? You can bring your family to Fort Myers Beach and relax, knowing that your little ones are enjoying the "safest beach in the world."